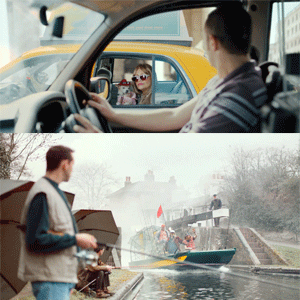 McDonald's has launched a new campaign to promote their American-themed food event, the Great Tastes of America. The five week promotion, which starts on 1st May, offers a new burger a week, each one featuring a flavour combination that depicts  a different American location.
Created by Leo Burnett, the TV and national press campaign, centres around the premise that the 'Great Tastes of America' promotion brings a little taste of America to the UK. The campaign focuses on American quirks appearing in our day to day lives. The 30 second TV ad shows some typically American people and icons, contrasted against some typically British backdrops.  The ad shows a London cabbie looking bemused as he sees a sea of New York style yellow cabs around him, a fisherman somewhat confused by an airboatpulling out of a quiet canal lock and a team of cheerleaders performing an energetic routine at a cricket game, much to the bewilderment of on-lookers.
Each week the new burger on offer features at the end of the commercial, with an American idiosyncrasy unique to that burger's theme unfolding inside a McDonald's restaurant as bemused UK customers tuck into their food.
The TV is supported by a press campaign inspired by the American tradition of specially designed number plates featuring model making by Paul Baker and photography by Richard Maxted.
Credits :
TV
Client McDonald's
Creative agency Leo Burnett
Copywriter Ed Tillbrook
Art director Richard Ince
Creative Directors Tony Malcolm & Guy Moore
Planner (creative agency) Livia Stefanini
Media agency OMD UK
Planner (media agency) Lucinda Allen
Production Company Smuggler
Director Neil Harris
Editor John Mayes @ Marshall Street Editor
Post-production MPC
Audio post-production Grand Central
Exposure National television & Republic of Ireland
Print
Copywriter Jon Fox
Art director Rik Brown
Photographer Richard Maxted
Model maker Paul Baker
Retouching/Designer Adrian Britteon
Exposure National press