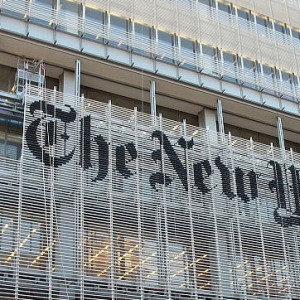 New York : The New York Times has announced the availability of the latest news and award-winning journalism from The Times, designed and formatted for an optimal reading experience on Windows 8. The New York Times app will be available through the Windows Store for Windows 8 starting Friday, October 26.
In addition, The Times will have its own channel within the Bing News app, which will be pre-installed on all Windows 8 devices, including desktop and laptop computers, as well as tablets, like the Microsoft Surface tablet.
Both products offer in-app authentication for existing Times subscribers. Nonsubscribers will have access to the Top News section within the app and will be able to purchase digital subscriptions for full access.
Subscribers will have access to all of The Times's content on both apps, including full articles, videos, photos, slideshows and blogs. The apps feature tiles, which allow users to pin any of the sections and blogs to quickly see the latest headlines at a glance.
The availability of Times content via a dedicated Windows Store app and in the Bing News app is part of The Times's NYT Everywhere strategy, which is designed to offer Times content to subscribers and non-subscribers on a wide range of platforms.
Denise Warren, general manager, NYTimes.com and senior vice president and chief advertising officer, The New York Times Media Group, said: "The introduction of these two apps for Windows 8 demonstrates our commitment to bringing our journalism to our readers on the platform of their choice. Whether they are on desktop, laptop or tablet, or they are browsing through the top headlines on the Bing News app, The Times's journalism will be there to help readers better understand the world they are living in.
This spectrum of news apps provides a powerful cross-application advertising sponsorship opportunity that delivers an audience at significant scale in a trusted New York Times environment."
"The New York Times is universally regarded as a pre-eminent news publication featuring world-class journalism combined with brilliant photography and video, and it's important that this award-winning content is available to Windows 8 users at launch," said Brian MacDonald, corporate vice president, Bing Application Experiences. "We were excited to work with The Times to help it reimagine a new reading experience for Windows 8. The end result is rich, immersive and easy-to-navigate content that will delight Windows 8 and New York Times's users."
The New York Times app for Windows 8 and the Bing News app will be available in the Windows Store beginning October 26. As with other New York Times news applications, the Top News sections are free. Times subscribers with tablet access, which includes the Web + Tablet and All Digital Access packages, will have full access to all content. It is also available to home delivery subscribers who link their account for digital access.