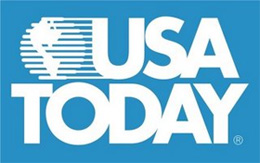 McLean, Va. - Responding to the explosive growth of original TV programming beyond networks and cable, USA TODAY has launched "TV on the Web," a daily online and print listing of the very best webisodes and video podcasts available online each day.
The video listings, ranging from web-only comedies and dramas to real-time tech reviews, cutting-edge animation and family fare, are selected by USA TODAY editors and reporters, including a weekly pick by USA TODAY's Pop Candy blogger Whitney Matheson.
"With celebrities such as Tom Hanks and Jerry Seinfeld entering the web-only space, and alternative programming sites such as Youtube, Hulu and Netflix carrying exclusive programming, the time has come to reflect the changing media landscape. This is the natural evolution of where TV programming is headed and USA TODAY is at the forefront by providing these listings spotlighting the best on the Web for our audience," said Larry Kramer, president and publisher of USA TODAY.
"TV on the Web" can be found in print on the television listings page and online at tvontheweb.usatoday.com. Online, USA TODAY's "TV on the Web" site will also serve as a video archive where users can eventually track many months of video content on a variety of subject areas. USA TODAY is encouraging its audience and online programming communities to make suggestions and interact with the site to create a truly dynamic and evolving guide to the best video the web has to offer.