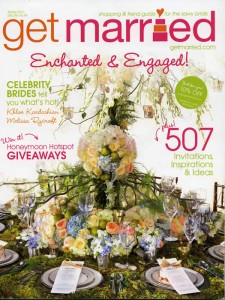 Atlanta :The Winter issue of Get Married magazine, available today on newsstands, offers brides more of what they have asked us for—real weddings, real advice, real beauty tips and really fabulous bridal fashions. As an interactive guide of the latest wedding trends, the Winter issue of Get Married magazine helps get—and keep—brides excited and organized with its fresh addition of "Get" sections to assist brides in getting the scoop on all that's new and cool in weddings. Introduced recently , the "Get" sections help brides easily navigate the magazine and the website as they plan and shop their way through their wedding experience.
"The Winter issue strives to be the place for brides to get ideas, get a plan and get all they need for their wedding and life together, and we do this in a way that is both inspiring and attainable," said Stacie Francombe, founder and editor-in-chief of Get Married Media. "As a resource that delivers real solutions to really passionate brides, including a diverse group of weddings and themes, the new Get Married magazine offers all the trends that a bride wants to see, know and shop that will make her wedding extraordinary and unique."
From wedding planning and wedding invitations to bridal fashion and honeymoon travel, Get Married magazine showcases what's hot for brides this season.