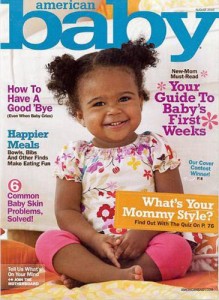 Des Moines : American Baby Magazine and Baby Magic have announced that they are teaming for an online baby contest that is now officially open to proud parents of babies ages three months to 24 months. To enter the baby photo contest, upload up to six current cute baby pictures between October 17 and December 18, 2010.
Chosen by the American Baby editorial staff, the five finalists of the online baby contest will win a free trip to New York City to participate in a photo shoot and a $1,000 cash prize. The grand prize winner's photo will appear on the cover of the May 2011 issue of American Baby Magazine.
The babies' photos must have been taken within one month of entry for babies under one year and within three months of entry for children over one year. The photos must have been taken by a non-professional and not have won any previous award. For more details on entries, the official rules are posted on the American Baby website. Parents can also visit the American Baby website to see a list of the most frequently asked questions.
"Each year when we kick off our cover photo contest, the first thing parents want to know is: how is the winner chosen," said Laura Kalehoff, executive editor, of American Baby. "It's not a secret! Our editors base their choice on one-third each of the child's appearance, the child's personality as reflected in the photo, and the quality of the photo. Basically, as a parent, if you think it's a cute and compelling photo of your baby and it's of good quality, submit it!"
A fun feature of the American Baby photo contest, but one that has no bearing on choosing the five finalists, is the ability of visitors to the site to participate in the weekly "reader's choice." For the nine weeks of the contest, visitors to the site can vote to determine the winning photo for that week. The winning photo receives a cash prize of $250. Once a parent uploads their photo to the contest, they receive an email the following Monday with the link to their photo. They can then share the link to invite others to vote for their entry. Voting starts that Monday and extends until the next Sunday night at 11:59pm CT.
Note: Photos must be .jpeg or .bmp image formats and cannot exceed 3 MB.