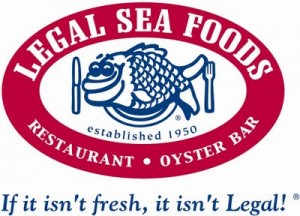 Boston : A newly launched advertising campaign from the Boston-based Legal Sea Foods restaurant group is receiving laughs as intended, but also a bit of controversy, as some feel the message goes a little overboard.
Entitled "This Day in Fishing History," the TV commercials present faux historic footage to accompany individual tales of what happens to those fortunate fishermen who finally succeed in selling their fish to the notoriously picky buyers at Legal Sea Foods.
But while the commercials focus on the fact that only the freshest fish makes its way to Legal Sea Foods, each spot features a side order of dark humor or innuendo.
"The essence of this campaign is that we only select the freshest fish to serve at Legal Sea Foods. Given that, we wondered who would be most pleased by the fact that we are so exacting, besides our dining guests. The answer is: The fishing boat captains who consider it a privilege and a cause for celebration to sell their catch to us," said Roger Berkowitz, president and CEO of Legal Sea Foods. "The message is serious, but our approach is entirely tongue-in-cheek, and some have expressed their disappointment with our humor."
In one TV spot, entitled "Houseboat", Captain C.G. O'Reilly purchased a houseboat to live out his life after achieving his lifelong dream of selling a fish to Legal Sea Foods. The documentary-like narration states that the captain's life was later tragically cut short when he "went to get the paper, and forgot his house was a boat."
Another spot, purportedly set in 1964, profiles the fictitious Capt. Earl Melvin who finally catches a fish "good enough to sell to Legal Sea Foods." Viewers learn that the captain commemorated this achievement by getting a tattoo of an anchor. The narrator then adds that the captain also commissioned a tattoo of "two women riding a dingy…but that was for a different occasion."
The campaign also includes a number of print ads that are designed to look like real newspaper articles that carry the news of a particular fisherman who has just sold his first catch to Legal Sea Foods. These ads have been appearing in newspapers in Washington, Florida and the New York metro area.
The company indicated that it has no plans to remove any of the commercials from the airwaves.
 The campaign, created by the New York advertising agency DeVito/Verdi, can be seen here at:http://www.fliqz.com/aspx/permalink.aspx?vid=abe4f284f4ac4feb818fe7d25fa8e1d4